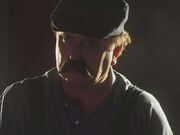 Plumber Vinnie is the brother of famous hero Plumber Pete. He looks somewhat identical to his brother, aside from a different-colored outfit and slightly different facial hair. Since Pete is based on Mario from Mario, Vinnie should be based on Luigi from the same series.
During the events of Press Start: The Movie, he was a plumber, possibly in the employment of Count Vile at his lair. He was caught swimming (in a frog suit, no less) through the elaborate plumbing network of Vile's lair, which caused his private bathroom to back up. This gained Vinnie a place on Vile's Wall of Fallen Heroes right next to his brother, where he remained until Vile was defeated.
Vinnie is later referenced in the Press Start Adventures episode "Kingdom Hurts" wherein He was noted to be "a bit of a fire flower, if you get my drift" by Pete.
His last appearance in the live-action Press Start Adventures short, "Bio Haphazard", seen on Press Start 2 Continue. In the short, he's seen giving some advice to Zack, Sam, and Lin-Ku as they scout through his haunted mansion.
Community content is available under
CC-BY-SA
unless otherwise noted.