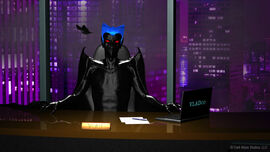 Vlad: Do your math, Belfast. Look at how many times each of your ancestors tried to kill me. At that rate, my castle would be reappearing once every fifteen minutes.
Vlad is an antagonist in the Press Start universe. A sarcastic vampire, he seems to be based on Dracula from Castlevania. He is voiced by David Humphrey.
Biography
[
]
Vlad: Behold the unholiest of ancient evils that dwells beyond sin. It will suck your chips away from you like the damnation of a thousand souls.
Vile: You can save the theatrics, Vlad. Nobody here will be impressed.
Vlad: Thank God. I think I'm getting laryngitis from making speeches to whip-bearing imbeciles.
Vlad's first appearance is in Poker, Mon. He doesn't do much except come to Vile's poker night. When Vile drops a Thwomp on top of King Reptillor, Vlad calls him "such a bad host".
In Symphony of the Trite, Vlad is in his castle talking to Vile on the phone when Trenton Belfast bursts into his throne room. Vlad ends his conversation with Vile to deal with the vampire hunter. After several minutes of mere talking, their battle is set to begin when Trenton throws a cross at Vlad. The object doesn't even come near the vampire, only returning to Trenton, who then throws a vial of fire at Vlad. This doesn't work either, as the vial lands on the floor and burns part of Vlad's rug. Vlad complains that he bought the rug in Japan and hopes Trenton intends to pay for it. Trenton tosses a sack of money at Vlad's feet, but the vampire is suspicious that the vampire hunter found it behind a candle in the lobby, which means Trenton is trying to pay him with his own money. Trenton's response is that the money was "ill-gotten funds to begin with". Just as Vlad is ready to begin the real battle, his phone rings. While Vlad is talking to Vile on the line, Trenton impales him through the chest and quickly escapes the castle before it disappears. The vampire hunter believes his mission to be accomplished, but Vlad's castle reappears fifteen minutes later. Vlad then resumes his conversation with Vile.
Vile: Is something wrong with Vlad's maracas?
Vlad does not appear in the first movie. He is only mentioned when Vile says to Sam that his mariachi band won a competition three times and that he plans to win it three more. When Sam says she wouldn't count on it, Vile asks if something is wrong with Vlad's maracas.